Common Log-in Issues
System Requirements
Before you login to iSqFt, be sure that your computer meets the minimum requirements. You can find the list of minimum requirements here.
Common Typing Errors
If you are having difficulty logging in please be sure that you have typed the username and password in exactly as it appears. If your user name or password contain dashes be sure to include them when typing the username and password into the login fields.
Browser Session Errors
Some people may receive errors about browser session encountering a problem like the image below: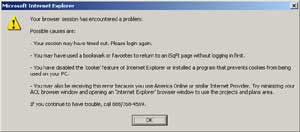 ( Click to enlarge )
This error most often appears for users of America Online (AOL.) If you are logging into iSqFt using the AOL software, this message will appear after you try to log in. To log in successfully, minimize (hide) your AOL window and open Internet Explorer using the icon on your desktop or choosing it from your Start menu in Windows. The icon you are looking for will look like this:

Another reason for this error may be that your Internet Service Provider (ISP) includes a Dial-up Accelerator. Due to how dial-up accelerators handle loading and caching websites, it may be necessary to temporarily disable the accelerator program when logging into and using iSqFt. Several popular dial-up ISPs that use these accelerators are Net-Zero, EarthLink and AT&T. To disable the accelerator, you will find an icon located in the lower right corner of your screen down by your clock in the system tray. Most accelerators can be disabled by 'right-clicking' the icon and choosing an option to 'turn off' or 'disable'.
Trouble Viewing Secure Sites
Sometimes after clicking on the link to login you will receive an error that the page cannot be displayed similar to the picture below.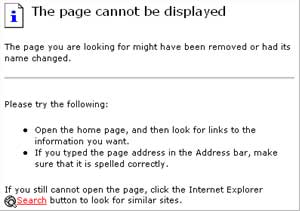 ( Click to enlarge )
If you receive this error immediately after clicking the login link, it is usually a sign that Internet Explorer is having difficulty viewing secure web pages. You can confirm this by visiting another secure website, such as the secure login on a bank website or by visiting www.ebay.com and clicking Sign in. If you get the error there as well, that confirms there is an error preventing Internet Explorer from viewing secure web pages on your computer. Contact your PC manufacturer or IT administrator for further assistance.